Manuel Maier is living his dream of being in the heart of Singapore's innovation scene, working with international talents at Bosch Digital. In this interview, we explore Manuel's journey and insights into the dynamic world of global management, from his enthusiasm for travel to shaping Bosch's digital future.
Manuel's path to the world of global management began with a unique professional perspective. Early on, he recognized the lasting value of practical skills and craftsmanship. "Craft skills are learned for life, and I see it as a profound and important pillar for a career in a technical field rather than 2 or 3 lost years of life." This was a guiding principle when he began an apprenticeship as an IT systems electronics technician at the former DaimlerChrysler AG. This taught him valuable craft skills – a solid foundation for his professional development.
His studies in technical computer science in Esslingen gave him the technical knowledge he needed, while his semester abroad in Singapore sparked his curiosity for international perspectives. To further broaden his horizons, he completed a Master of Science in Business Management at the University of Leeds in the United Kingdom. These academic endeavors not only provided him with valuable knowledge, but also shaped his adaptable mindset – a trait that would prove crucial in his future career.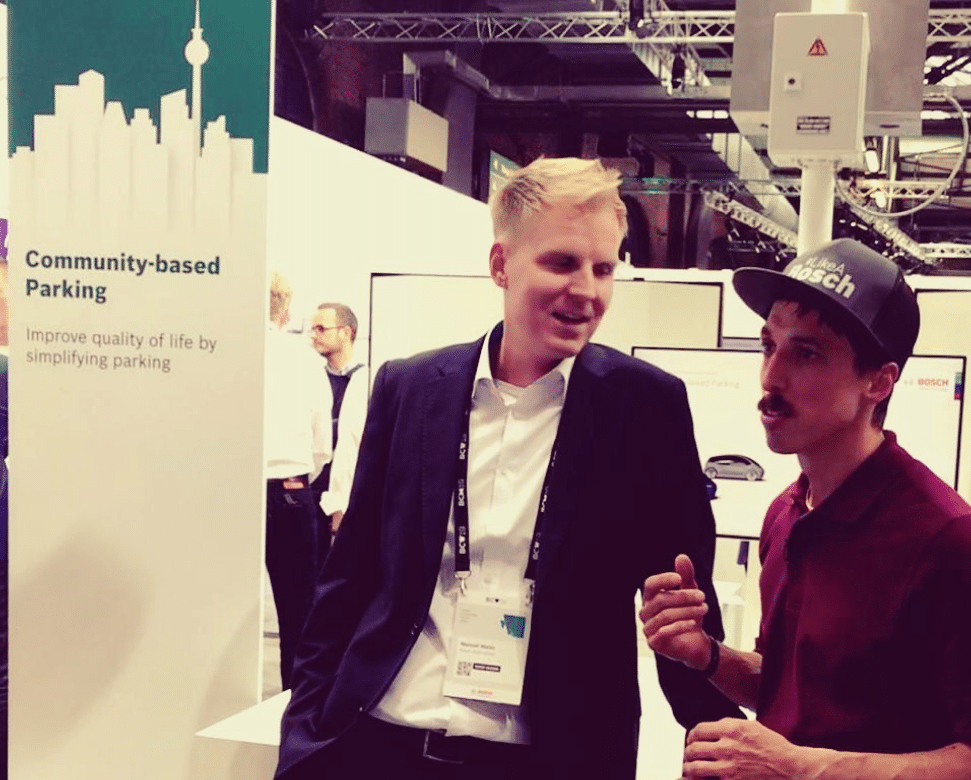 ©Bosch.IO
Craft skills are learned for life, and I see it as a profound and important pillar for a career in a technical field rather than 2 or 3 lost years of life.
©Bosch.IO
Manuel joined Bosch in 2008 and initially worked in the Chassis Systems Control as a Software Development Engineer in the ESP field until 2012. In this role, his primary focus was on software development in the context of ESP systems.
In 2012, he transitioned to Bosch Software Innovations in Waiblingen, where he took on various roles such as Product Owner and Product Manager in the areas of Connected Car, Connected Vehicle, and Connected Mobility. During this time, his work centered around innovative technologies and connected automotive solutions.
When he joined a newly established central project, the BBM Project (Business Unit Mobility), in 2015, he became a founding member and was involved in the development of Connected Parking solutions, including Community-based Parking and Automated Valet Parking.
Manuel's experiences in software development and his roles in the connected automotive field at Bosch are still highly relevant to his current position, where he leads Bosch.IO in Asia from Singapore. Even in a leadership role, his software development knowledge remains essential, and his extensive experience in Connected Mobility within the BBM provides a deep understanding of customer needs and enables him to act accordingly to meet those needs.
The road to Singapore
Manuel's dream of international experience and his desire to contribute to Bosch's global efforts came true when he joined Bosch.IO in Singapore in March 2020. The vibrant metropolis had long held a special place on Manuel's bucket list. During his semester abroad at the university there, he gained valuable experience and knowledge that strengthened his desire to work in this inspiring city.
What inspires him in Singapore is the perfect ecosystem, a mix of modernity and history. The city is known for its innovation and has become an attractive magnet for talent from around the world thanks to its top universities and thriving startup scene. Bringing together diverse talent from different parts of the world at Bosch Digital fosters a dynamic exchange of ideas and perspectives that drives collaboration and growth across global business units.
Manuel's time in Singapore has had a significant impact on his mindset. He now prioritizes differently, focusing on what really matters and avoiding less valuable activities. He also creates space for himself and his team to think, decide and act. His understanding of digital ecosystems and platforms, as well as customer centricity, has deepened during his time in Singapore.
Manuel's role in Regional Business Responsibility for Bosch Digital Asia-Pacific is dynamic and diverse. His daily routine is a mix of important meetings with customers, associates and executives. Recently, he has been focusing on one important task in particular: managing the transition to Bosch Digital, where he plays a key role in the transition team. He is primarily responsible for leadership tasks and provides business development support for customer acquisitions.
This multi-faceted role combines business strategy, leadership, and various technology areas, allowing Manuel to pursue his passion for different challenges and demonstrate his adaptability. In this constantly evolving environment, he has the opportunity to satisfy his curiosity and always take on new tasks.
In relation to Bosch's vision for the Singapore location, Manuel elaborates that it aims to be a hub that aligns the principles of "follow the talents," digital innovation, and testbedding. This vision contributes to the overarching idea of "Invented in Singapore, invented for life."
©Bosch.IO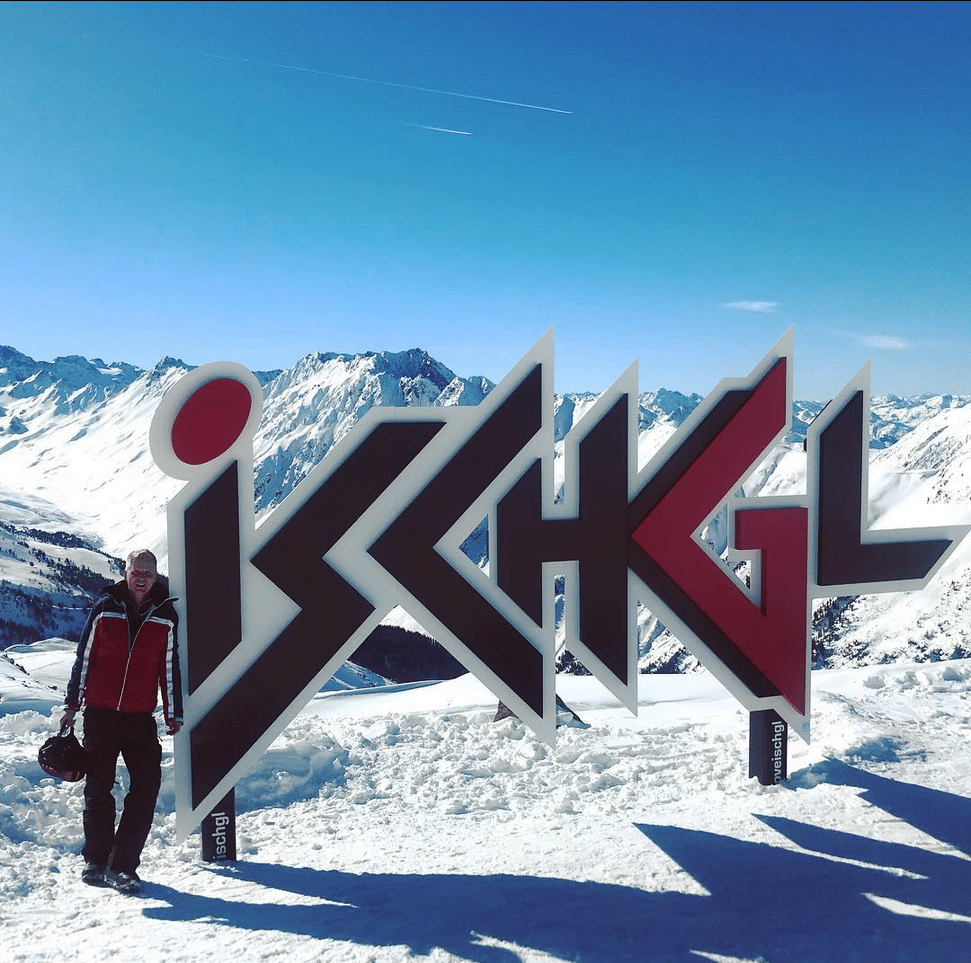 ©Bosch.IO
In his spare time, Manuel devotes himself to a variety of interests. His passion for travel has taken him to some 250 cities and towns in 50 countries, with the goal of reaching 100 countries. He also enjoys staying active by participating in sports such as mountain biking, snowboarding, wakeboarding, and attending outdoor boot camps. When he wants to relax, he  also likes to watch Netflix.
He loves exploring other cultures through travel. This interest is a driving force in his life, and he values the insights and experiences he gains from his travels. If you ask his friends and relatives what makes him special, they would probably mention his positive attitude, his smartness and his down-to-earth nature.
Manuel's approach to balancing work and personal life is thoughtful. He prefers to be in the office almost every day because he appreciates the opportunity to be around people and be easily approachable by his team. He also likes meeting up with colleagues from other Bosch business units over lunch or coffee chats.
But he also appreciates the flexibility of telecommuting. He often works from home, especially when he attends late-night meetings with colleagues in Germany. On Monday evenings, he makes time for a weekly sports group with friends, keeping this time free from work commitments. He's also no stranger to the concept of "working smart abroad." Earlier this year, he combined work and leisure by working in Germany, snowboarding in Ischgl, Austria, and taking time off to mountain bike and hike in South Tyrol, Italy. This ability to combine work and personal passions exemplifies Manuel's approach to life and balance.