©Bosch.IO
How can we improve as a company? That's the question that guides Martin Buerssner's work. As Head of Development at Bosch Digital, he strives for constant progress of Bosch Digital's products and processes. Read about his experiences and get some insights into his daily life in this article.
What does completing the Iron Man have in common with a successful career at Bosch Digital? For Martin Buerssner, who has achieved both, the answer is clear: persistence. "If I do something, I do it right or not at all!" This motto has guided him since his days in the city of Freiburg, where he first started following his two life-long passions – triathlons and informatics. While Freiburg's location in the Black Forest served as an ideal setting for his athletic activities, the city is also home to one of Germany's oldest universities. Spurred by his interest in technology and organizational dynamics, Martin chose to study economics with a specialization in business informatics. This paved the way for his first job as an SAP CRM developer at the Porsche subsidiary MHP GmbH.
©Bosch.IO
©Bosch.IO
Martin quickly realized that he enjoyed taking on responsibility. After two years at MHP, he joined Bosch's corporate IT unit as an IT project manager and CRM solution manager in 2008. Driven by his curiosity for leadership, he became group leader and advanced to the role of Head of Development within three years.
Today Martin is Head of Development at Bosch Digital following the reorganization of Bosch's corporate IT in 2021. He is particularly fascinated by navigating dynamic topics and technologies such as ServiceNow, which he helped ramp-up when it was still in its infancy. His current projects include building up hyperautomation capabilities at Bosch.
When asked how he would describe his daily work in few words, Martin immediately responds: "Leading our business, others, and myself." As Head of Development, he is responsible for driving the progress of Bosch Digital by identifying room for improvement, removing impediments, and securing a consequent implementation of the teams' plans. "I need to secure collaboration in all directions because this is what unifies us in a company," he emphasizes.
A large part of this job consists in aligning the diverse ideas and interests of his equally diverse team. Martin's daily routine therefore revolves around engaging in (online) meetings with colleagues from all over the world. Bringing all their individual thoughts together and uniting them into a common, productive understanding of the tasks is what Martin refers to as the "challenge of politics". A challenge he's happy to take on: after all, he firmly believes that "diversity is the source of creativity and results in the best decisions for our company."
©Bosch.IO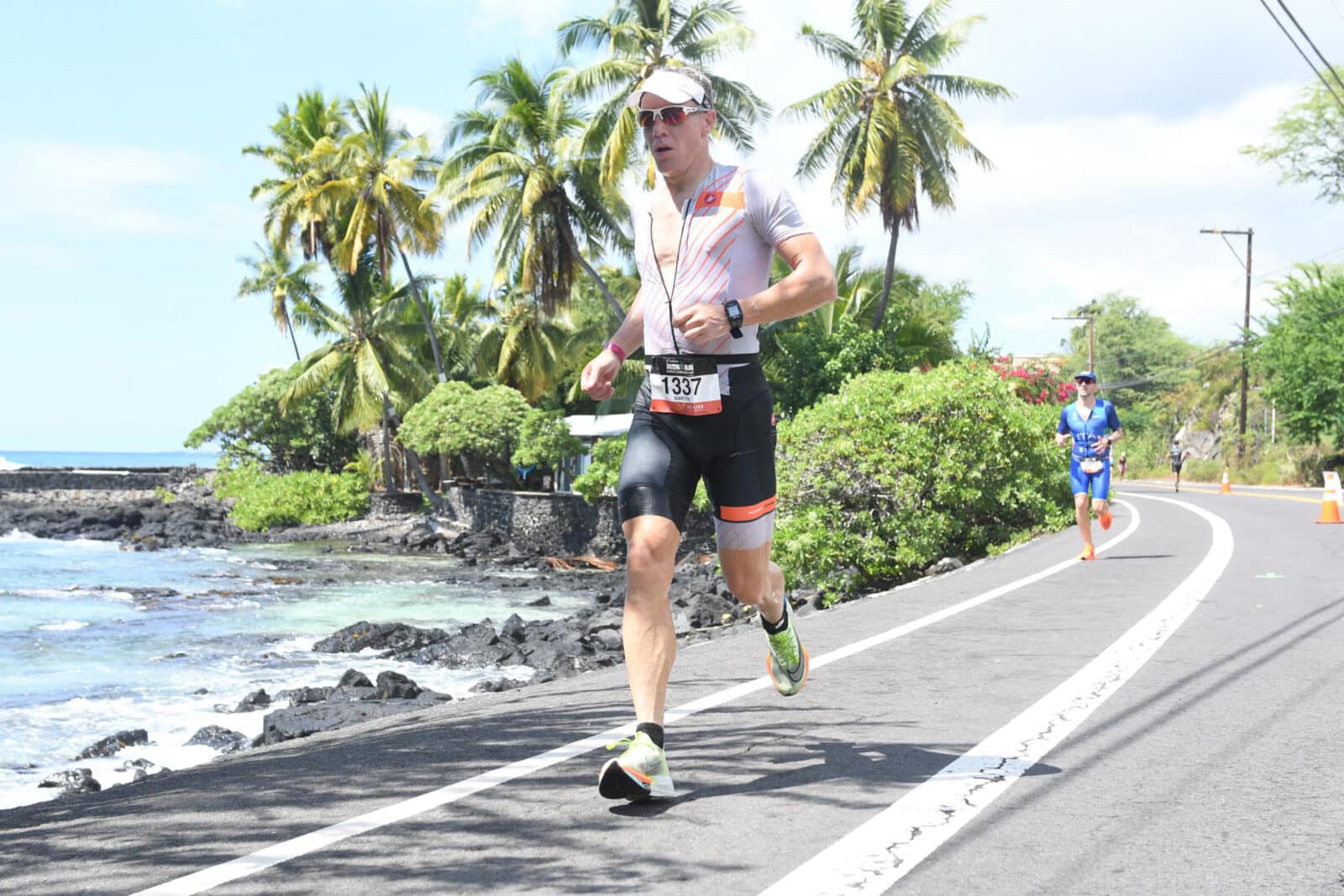 ©Bosch.IO
Just like his colleagues, Martin's friends and family would undoubtedly describe him as persistent. Ever since he was 18 years old, it was his dream to compete in the Iron Man in Hawaii – a notoriously challenging triathlon. He has worked hard ever since to achieve his goal. He managed to balance his work schedule, his family life and raising his son with a rigorous training regimen by using lunch breaks to go for runs and turning commuting hours into cycling training. In the final run-up to the Iron Man, Martin took six months of parental leave to have enough time for both his son ("my sunshine") and his training.
Martin shows that everything is possible when you set your heart on it. Last year he finally finished what many deem an impossible task: crossing the finish line of the Iron Man in Hawaii. After 25 years devoted to triathlons, the Iron Man will have been his last big sports event. "I decided to go out on a high note," he says.
As a retired and fully satisfied triathlete, I get to spend as much time as possible with my son, my family, and my other hobbies – like reading, and cooking with my favorite gadget, the Bosch Cookit. I'm curious to see what's next for me!"