©Bosch.IO
Innovation, knowledge exchange, and development of associates and students – these are the goals of the Industrial Data Lab that has recently been established by Bosch and the University of Stuttgart. It is based on the Technology Partnership Lab Program of the University of Stuttgart and kicked off in October 2022. More than 50 participants from different Bosch business units and different university departments joined the kick-off event on October 13, 2022. They listened to motivating key notes, got to know each other personally, and joined lively discussions around the broad topic of data. Among them were Corinna and Rebecca, who wrote their dissertations within the Industrial Data Lab.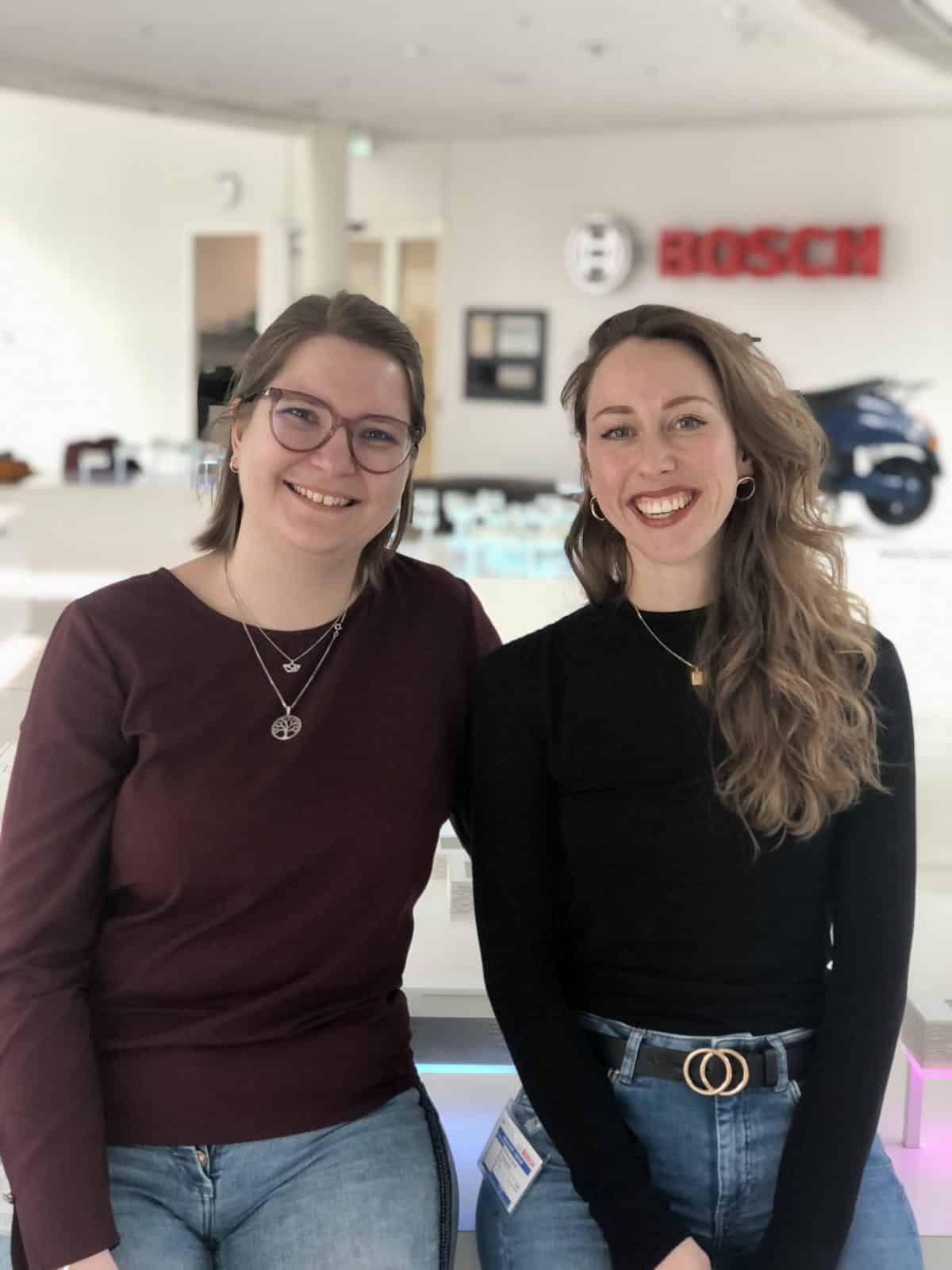 ©Bosch.IO
Both women studied IT at the University of Stuttgart and have completed or are completing their PhD. The Industrial Data Lab offers this opportunity regularly to IT students for various PhD projects and research areas regarding different data-related topics. Corinna and Rebecca are very convinced of their path and would like to motivate other women to choose an IT program and consider a doctorate in this field. The combination of IT studies and a PhD offers an excellent start to a promising career – both in business and in academia. Rebecca and Corinna agree that this kind of career path will never get boring!
Corinna's story: never stop being curious
Corinna started her PhD on data lake architectures in 2018. Back then, companies were aligning their business operations and turning to data-driven initiatives such as Industry 4.0. Data lakes, however, were a new topic and still presented an immature concept with various conflicting definitions and only rough thoughts on how it should be realized. The guiding question of Corinna's research project was therefore "How can a data lake be set up and realized to support the needs of a company, specifically a global-acting industrial company like Bosch?" During the work on her PhD, Corinna was temporarily integrated into the team at Bosch in Stuttgart. "I published papers, supervised master students, and held lectures at the university. During this time, I learned a lot, both professionally and personally, and matured," Corinna says. She completed her PhD in December 2022, became a Bosch associate right away and is now putting her research results into practice. "Many findings from my PhD are still beneficial for my daily work today. This not only includes knowledge about data lakes. It also includes self-organization, time management and, above all, self-insights. I can only recommend it to anyone who is interested in academic work to embark on this journey, especially in cooperation with an industry partner like Bosch," Corinna underlines.
When Corinna is not working, she spends her time trying out new hobbies. As a balance to her very logic-driven tasks at work, she is creative in her private life and enjoys writing books, playing in an orchestra, participating in role-playing games (e.g. Dungeons and Dragons), or drawing. Since she is a very curious and open-minded person, she loves to learn new things such as calligraphy, bookbinding, or sewing.
As part of the Industrial Data Lab, Corinna is currently supervising an own PhD candidate with a thesis on data mesh. Although a candidate has already been found for this topic, the Industrial Data Lab always offers new, interesting topics suitable for a PhD. In addition, the Industrial Data Lab also offers master's theses for students in different topic areas.
©Bosch.IO
Rebecca's story: testing concepts in a real business environment
Rebecca is currently in the final phase of her PhD with a focus on enterprise data marketplaces. In other words, she is researching how companies can make already existing data available to employees and, in part, to external stakeholders. In line with her PhD research, Rebecca is also leading a project that investigates the concept of data mesh and its relationship to data marketplaces. Through the cooperation with Bosch and the Industrial Data Lab, she receives insights into practical challenges and can test her concepts in a real business environment, which she regularly discusses with other colleagues at Bosch. Rebecca also supervises student projects and theses (e.g. on the development of a data marketplace prototype) and shares her experience as part of a lecture series. Research naturally involves publishing the developed solutions, so Rebecca writes research articles and has the possibility to travel to a wide variety of conferences in different countries as a reward. "I have experienced my PhD as a very versatile project, where you learn a lot about yourself and your competencies and ambitions. What's more, when you do it in cooperation with an industrial partner like Bosch you not only receive technical expertise. You also get insights into real-life business practice," Rebecca reports.
When she is not researching, Rebecca likes to venture out into nature – anything from a short jog to long-distance hikes and wild camping is possible. If she needs more quiet times, Rebecca enjoys reading or spending time with friends and family. "I'm always happy to meet new people, so if you're also interested in a PhD and want to know more about my journey, I'd love to hear from you," she says. Contact her and see which tips Rebecca has in stock for you!
©Bosch.IO