©Bosch.IO
Let passion take the lead: The Journey of a Product from Conception to Delivery
Bringing a product to stage involves more effort than many might think. Pedro G. Branco is an iOS engineer of the Product Delivery Team at Bosch Digital and knows exactly what this means. Together with his team, he makes sure that a new product meets the requirements, and that the best solution is found before it enters the market.
Being someone who has been interested in mathematics, physics, and technology since his childhood, Pedro studied computer engineering at Pontifical Catholic University of Rio de Janeiro. "Computer engineering was the best choice. If I had to decide again, I would still make the same choice." During his studies, Pedro worked at a consulting company at the university that focused on entrepreneurship. This was when he realized his passion for developing technology products. To pursue his dream, he moved from Brazil to Cupertino, California, to participate in an internship program at Apple. He also used the chance to improve his English and to do some networking, as he lived in Apple's HQ city during this time. Another three-year internship at Apple in Brazil followed suit. "You can create your own apps and business. I had the opportunity to make my own games be seen."
©Bosch.IO
©Bosch.IO
Pedro joined Bosch Power Tools in Portugal in 2019. He worked in software development and supported Bosch Indigo, an autonomous lawn mower project. However, being the only iOS developer in the entire Portugal team, Pedro felt he was lacking technical exchange and the chance to gain new knowledge.
After working at Bosch Power Tools for a year and a half, he came across a job offer in Project Delivery at Bosch Digital and filed an internal application. What sets the Project Delivery team at Bosch Digital apart from other departments is the fact that it does not have its own product. Bosch Digital develops projects exclusively for different Bosch business units. "I found it very interesting since I wouldn't be working on the same project and looking at the same code base every day. What I am doing now will actually change the future." As an early joiner, he witnesses the rapid growth of the team from only two developers to nine. Today, Pedro is in charge of implementing new features for different apps at Bosch and always strives to achieve the best possible results. "I have already completed six different projects in two and a half years. These are all things I want to do, and that deeply fulfil me."
Pedro is currently working in an exciting internal app development project that aims at steering a measurement tool using laser. "I am dealing with Bluetooth data connectivity, backend flow, and the like. My job is always exciting."
More than just a job
Pedro enjoys flexible working time. He usually has enough tasks in his pipeline for two or three weeks and can decide in which order he will finish them. Depending on the project status, he has daily or weekly exchanges with the iOS and Android developers of the team, where they share information and exchange knowledge. Although the team consists of both senior and junior developers, everyone is treated equally. They work according to the principle that everybody must have enough knowledge about every project to be able to cover absent colleagues. "I love my team; the ideas just pour out when we brainstorm together, and we always come up with a better solution."
We are more than a team; we are family. We always support each other.
Pedro's advice for career starters
When it comes to career starters, Pedro's advice is to prioritize passion and listen to your heart. "To love what you do and to pursue doing it regardless of what others might think is crucial for long-term satisfaction and success," he underlines. "Additionally, it's important to engage in meaningful work that not only fulfils you, but also potentially benefits others. Finding purpose in your career can provide a sense of fulfilment and motivates you to keep pushing forward."
In the technical field, Pedro sees continuous learning and growth as essential factors for success. His advice: "Always actively look for workshops, courses, and opportunities to expand your knowledge and skills. Embracing challenges and pushing yourself outside of your comfort zone will help you stay ahead in a rapidly evolving industry."
©Bosch.IO
To love what you do and to pursue doing it regardless of what others might think is crucial for long-term satisfaction and success.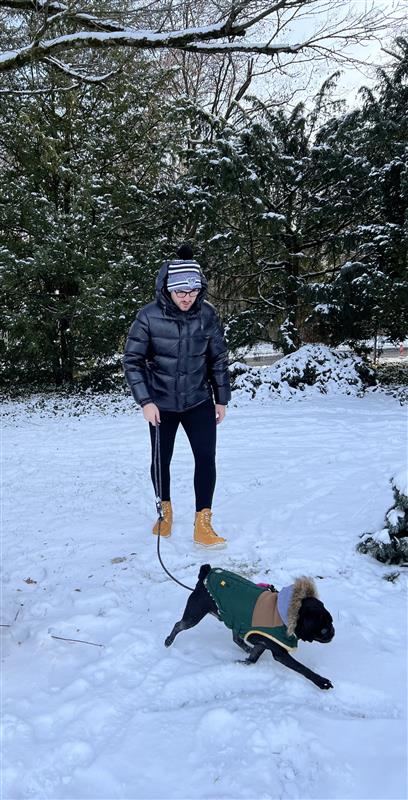 ©Bosch.IO
Having worked in Brazil, Portugal, and Germany, Pedro notices several differences in the working culture. In Brazil and Portugal, co-workers often become close friends. However, to Pedro Brazil is "like a wild forest" where you only move forward by queuing a lion due to many workers and strongly profit-oriented companies. In Germany, there is a better work-life balance, and people respect each other without judging their backgrounds. Nevertheless, it is much more difficult to find real friends at work because the separation between personal and working life is much stronger.
Outside of work, Pedro enjoys spending time with his wife and dog, and socializing with friends. One of his favourite hobbies is soccer. He meets up with work colleagues and friends several times a week to play the ball. On the weekends, he often goes to the stadium to support his current local club VfB Stuttgart. When asked what makes him special, Pedro believes his friends and family would highlight his big heart and his ability to treat everyone he cares about as family. Here, his many intercultural experiences have had a strong influence. But most of all, his compassionate nature and strong connections with loved ones are distinguishing qualities that resonate with those around him.