©Bosch.IO
Transforming the future of the energy sector is now a reality thanks to the IoT. The Bosch IoT Suite has already connected more than ten million devices around the globe in areas ranging from energy, intelligent infrastructure, and smart cities to health care and shopping assistants. Together with his colleagues, Boris Karaivanov is developing new solutions that make the energy sector more connected and help preserve time and valuable resources.
Boris's path to becoming a senior front-end developer became clear when he was just a child. Like many young children, Boris was influenced by computer gaming and this passion for technology later became his career. "My IT education started in high school (2003–2008, TUES) and continued with a Bachelor's degree from the Technical University of Sofia." Since graduating, he has gained more than ten years of valuable experience in different areas and companies.
©Bosch.IO
©Bosch.IO
Boris now works as Senior Front-end Developer for the Energy Product team based at Bosch.IO's Sofia site. He joined the company at the end of 2017. Remembering the motivation behind his decision Boris says, "I was looking for an interesting and meaningful product that has an impact on our society and serves a greater good. I wanted to be proud of my work and to be able to share with my friends the vision and the solutions that I am developing for a brighter future. I liked the energy domain and the IoT applications the company was tackling and developing solutions for."
Bosch.IO has already devised solutions for more than 250 IoT projects. These solutions help companies optimize their lines of business and preserve resources for future generations. According to Boris, "The energy market is an interesting and challenging one that includes the rollout of new smart meters and other devices to make our lives easier. The difficulty, though, lies in orchestrating an IoT infrastructure and adapting it to meet government rules and regulations. Overcoming this sizeable challenge requires skills, know-how, and creativity."
Very often, solutions devised for other areas at the Sofia site – such as smart home, Industry 4.0, agriculture, and automotive – are easily transferable to the energy sector. For Boris, the key to Bosch.IO's success is in the collaboration between experts from other departments and divisions within the Bosch family.
Daily routine
Boris starts his day with a hot cup of coffee in our kitchen, where most colleagues catch up in the morning. After that, his day continues with the organization of the SCRUM development process for his team. "Task development takes up the majority of my day and consists primarily of organizing and participating in meetings related to project development and needs. The discussions are mainly about technical details, implementation specifics, future development of the product, and integrations with third-party software." In addition, Boris spends his time documenting technical decisions on architecture and integration with external software as well as setting up project-specific continuous integration and delivery processes. He jokes that these are not all of his responsibilities and that he'll save the rest for the next story we write about him.
Boris is currently part of two big projects: Local Energy Management and Master Asset Management, and he shared with us the role he plays in both.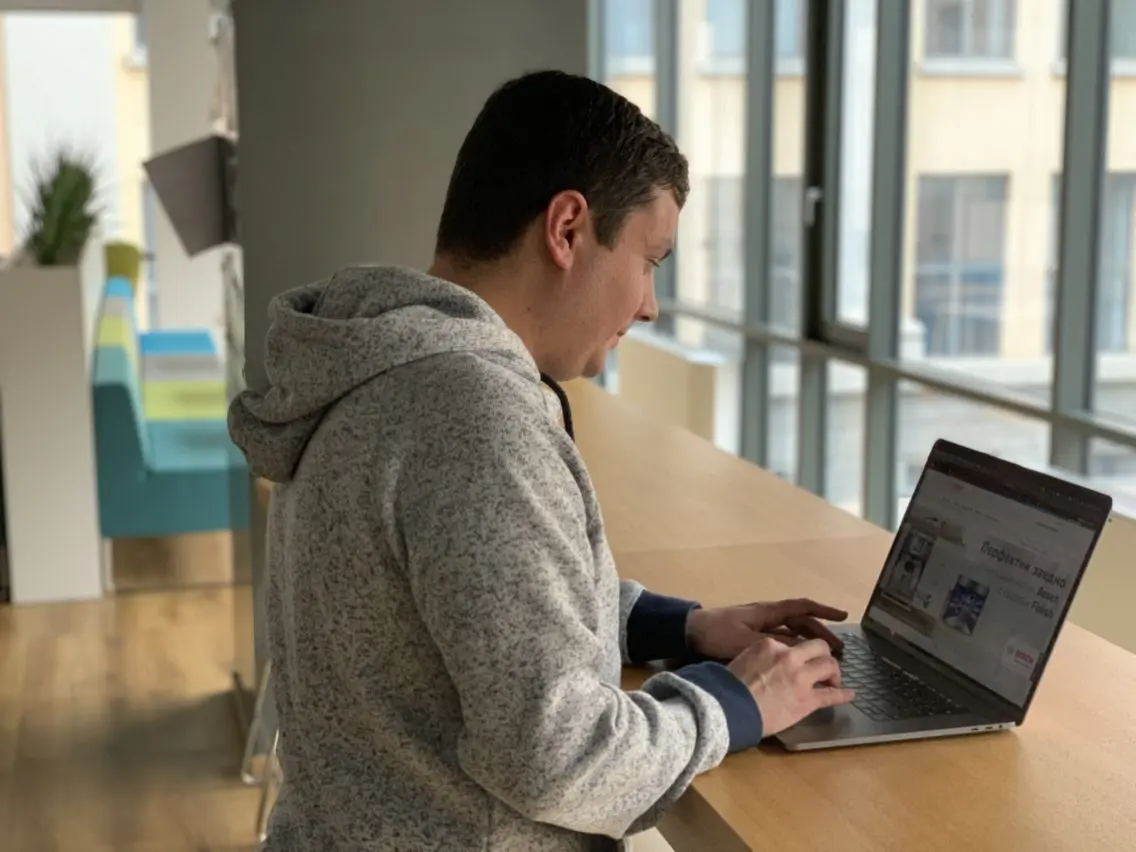 ©Bosch.IO
©Bosch.IO
"The Local Energy Manager project is a medium between production and consumption on energy (electricity and/or heat). The software we develop monitors the production and consumption of energy in a closed system and tries to balance the two (production should be relatively equal to consumption) with the help of AI algorithms/models. It uses Bosch IoT Gateway Software as a base platform because of its on-field deployment feature. Each edge device is administrated with Bosch IoT Remote Manager."
Electric vehicles can be coupled with power grids and buildings of any kind from single-family homes, multifamily houses to apartment buildings, industrial buildings, and other existing and new structures. "The traction batteries of serial production e-vehicles (rEV) are combined to create a buffer storage of the respective building together with the serial production rLS-batteries in order to maximize self-consumption and minimize grid exchange. In addition, these are made available for ancillary grid services – in this case, the demanding and profitable fast frequency control," explains Boris.
"The other project I am working on together with my team is the Master Data Manager – a component for generic storage (with CRUD operations) of assets (entities). This project is incorporated into several systems related to the smart metering solution."
It is not easy to work simultaneously on different projects, but for Boris this is one of the aspects that makes his work both interesting and challenging. Seeing the results and the actual application motivates him to continue developing solutions for a more connected future.
Boris's goal is to continue working in the IoT sector because the future is bright and still not fully shaped, and it offers a lot of opportunities for development and innovation. "There are a lot of unexplored areas that will be interesting to discover. In general, our lives – much like Bosch's slogan 'invented for life' – will evolve and adapt to the new digital world. In terms of the future, I see ease of use, such as the adoption and the penetration of technology, and the versatility and ability to have all your devices under one ecosystem as challenges we will need to overcome."
For Boris, the key to balancing private and work life is proper time management. "I personally try not to work longer hours, because it's counterproductive in the long run. However, I make exceptions on crucial occasions so that my work doesn't impede others when dealing with milestone or deadline delivery." Although his work does not involve taking risky decisions, Boris is an adrenaline junkie when it comes to his favorite hobbies. "I've been injured riding ATVs, broken a tooth while bungee jumping, and twisted my ankle while paragliding and skiing." Striking this balance allows him to have a different and valuable perspective, which in turn helps him to help his colleagues achieve better results.
During our chat, Boris also shared with us the most interesting gadget he used recently: "I was playing with a handheld spray paint printer that can be controlled wirelessly using a smartphone app."
©Bosch.IO
Looking towards the future
For Boris, his vision of the future includes the development of IoT solutions that will cover many new areas and make our life easier. "My vision for the future is for our possessions to watch over us, not the other way around." He hopes that we will find new ways to implement existing solutions and develop new solutions that will continue to transform our lives. "Wearables are still not well adopted and they offer huge potential in areas like medical monitoring. We need new, up-to date-interfaces for interaction with the latest gadgets, such as a brain-computer interface that operates with the help of wearables."
His advice to anyone who wants to join Bosch.IO – "Come join us to create a brighter future that will make the lives of future generations better and easier."