©Bosch.IO
Every software product, every website, and every tool depends on its user-friendliness. They need easy-to-use interfaces that are intuitive even for IT laypersons. People like Saskia Marquart create such user-friendly interfaces. As a product owner, Saskia is responsible for user interfaces (UI) at Bosch.IO and makes everyday life easier for others. Accessibility is a particularly important topic for Saskia: she promotes it in all its shapes and colors.
When asked if she could have imagined working for an IT company prior to her current role, Saskia shakes her head, laughing: "No way!" Nevertheless, her journey into the IT world kind of began with her choice of studies. Following the recommendation of an acquaintance, she decided to study applied media and communication sciences at the Technical University of Ilmenau. "I was convinced by the future-oriented and practical type of studies."
Many real-life projects and seminars suited Saskia just fine. However, she enjoyed the seven IT modules a little less. "Programming wasn't my strong suit," she admits. "But in the end, it's not about whether I can code applications myself, but about understanding the basic structures." This basic technical understanding helps her in her current daily job. Precisely because she can still remember her first quarrels with IT, she understands how to create user interfaces that meet the user needs of "IT non-natives".
Saskia knew at an early stage of her studies that she would not follow the typical path of many media students: she wanted to work in a large company instead of an agency right away. She quickly became aware of Bosch: "I heard a lot of good things about Bosch at the time. They take internships seriously, value your work, and allow you to take on complex tasks." So, Saskia decided to apply for an internship – and started a journey that would shape her entire professional life.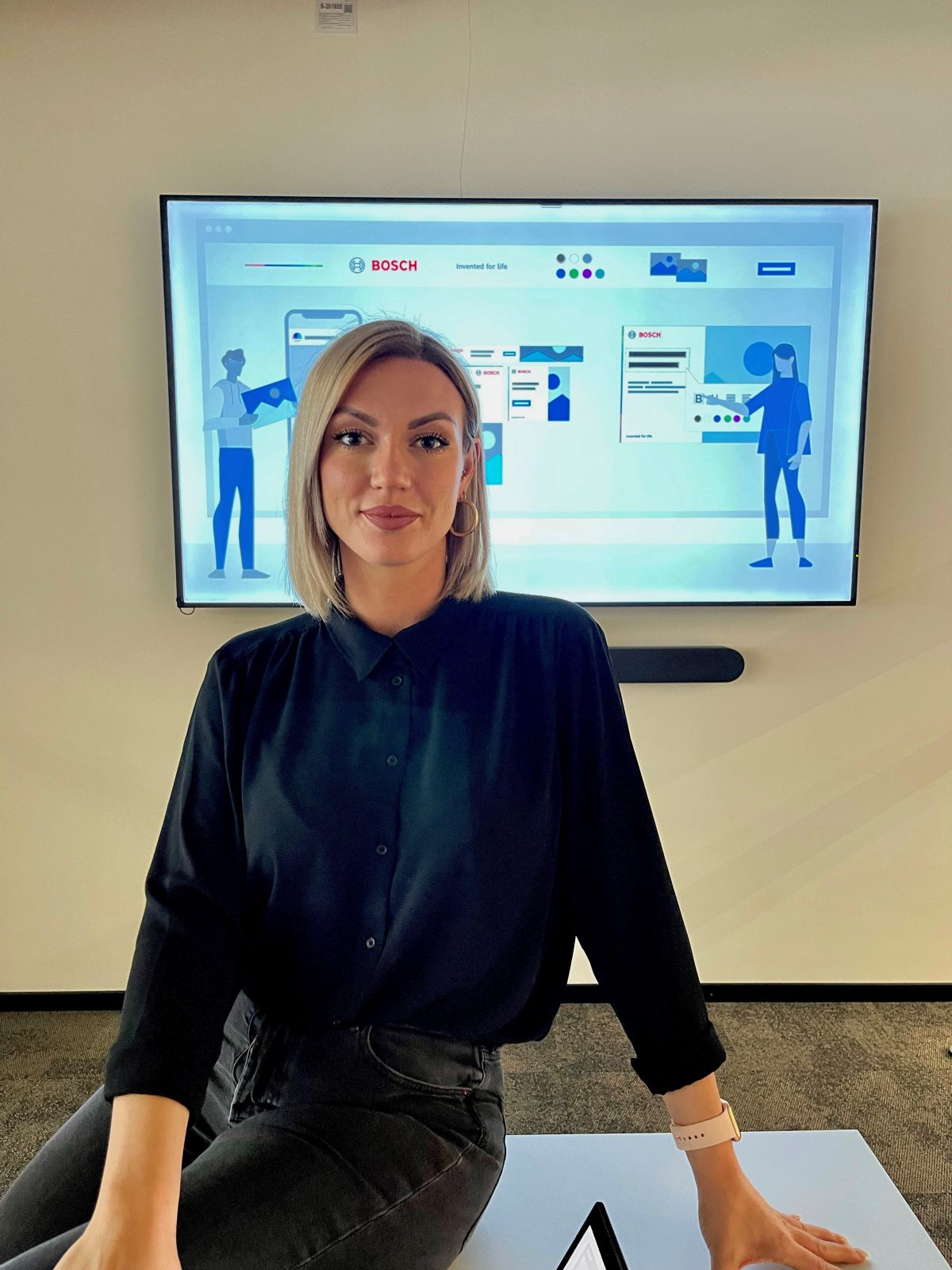 ©Bosch.IO
©Bosch.IO
She began her internship at Corporate IT in 2014 and took on responsibility very quickly. She liked the unit so much that she even decided to write her bachelor's thesis there. Saskia's Bosch journey continued with an assignment abroad in Singapore, a position as a working student, and finally a full-time start as Community Manager. However, she only stayed there for a short time: after two months, Saskia became a Scrum Master for user interfaces.
"I had no experience in this field at all; I was simply thrown in at the deep end", Saskia recalls. It was a stressful time for her, especially since her master's thesis was still waiting for her at home after work. But her effort paid off: It didn't take her long to learn the ropes. Today, she is all-in on the practical concept and likes to give new colleagues the same push into the deep end: "You learn most when you have to solve problems yourself."
Over time, Saskia evolved from a newcomer into a project manager for the UI department. When the department was transferred to Bosch.IO in 2019, Saskia knew: she was dedicated to the topic and wanted to come along. As product owner, she assumed responsibility for the UI topic – and does so to date.
Saskia doesn't program the UIs. She has experienced IT colleagues in the team who provide the software framework for the applications. Together with user experience experts and designers, she then creates the UIs with a focus on user friendliness.
Saskia is currently working with Bosch Corporate Design (CD) on creating a digital brand guide for all colleagues to strengthen the user and brand experience of Bosch worldwide. The platform bundles CD-compliant templates, style guides, graphics, and icons for all digital touchpoints – whether for websites, apps, or digital devices. Thanks to frontend developer libraries, Bosch employees can drag "ready" HTML code behind graphical elements and copy-paste them. No in-depth expertise is required. This is just one example of how Saskia makes work easier for others – just like she is doing in another current project: the "Layout Creator" tool enables non-specialists with no prior design knowledge to create communication materials such as posters or flyers.
As product owner, Saskia acts as a link between design and development, the digital design team, UX agencies, the business units and, finally, corporate design. Her scope of work accordingly includes many coordination and leadership tasks. When asked how she keeps track of everything, Saskia replies: "I'm good at what some people might call multitasking."
©Bosch.IO
Saskia uses this talent every day by tracking fast-moving UI developments, sifting through UX reviews, and responding to legal requirements and quality gates. For example, the requirements for accessibility are currently changing – a topic that is particularly important to Saskia: "I think everyone should have access to digital offerings."
Sharing good times with the team is also important: "Don't take everything too seriously. Fun in the team should never be neglected. The personal level is what forms a strong team and creates success!"
When asked how well her team knows her, Saskia laughs: "My team knows everything about me! They also know my quirk: I can't stand having hot and cold food on one plate at the same time."
Saskia probably separates her food a lot more strictly than her private and professional life. Whenever she encounters ingenious UI solutions during her leisure time, she is sure to mention them in the next meeting. On the other hand, she also transfers her private travel enthusiasm to her professional life. Saskia likes to get away from her desk occasionally and talk with people face-to-face, be it at events or agency meetings. Since her internship, her favorite travel destination is Asia – also in culinary terms. Her favorite food is the Korean specialty bibimbap.
©Bosch.IO
Looking towards the future
You can't get around a basic understanding of IT these days.
Looking ahead, Saskia says: "Today, there's no way I could imagine working without IT interfaces. I simply enjoy my job at Bosch.IO. The IT topics make daily work varied and challenging."
Nevertheless, she foresees some changes: the number of touchpoints and requirements will continue to grow while automation advances. Design automation as well as code and UI automation are already up and coming.
What trends will Saskia encounter tomorrow? "We will probably move away from classic UIs like websites and apps to augmented and virtual reality. We will be more concerned about haptics and sound than ever before." Whatever challenge lies ahead, Saskia is ready to jump in at the deep end and create user-friendly UIs for everyone.