©Bosch.IO
Working on the Bosch IoT Suite can be a very challenging task. The Bosch Group's core software platform for IoT solutions includes a variety of different applications and services. Today, it already connects more than ten million devices around the world. As a software developer, Ana Dimova creates new features for the platform and thus plays an important part in bringing the IoT to life.
Ana's path to becoming a software engineer was predestined. According to her, programming is in her genes: "My father is an engineer, as was his father before him. My daughter now studies computer science as well." Ana became curious about programming and technology in high school and set out to make her passion a profession: she learned the programming language FORTRAN at the University of Architecture, Civil Engineering and Geodesy in Bulgaria's capital city Sofia, and then headed to Sofia University, where she studied computer science.
©Bosch.IO
©Bosch.IO
Ana now works as a Senior Software Developer on the Bosch IoT Suite and is based at Bosch.IO's Sofia site. She joined ProSyst (a company that was later acquired by Bosch) back in 2012. "At that point, my husband had been working for ProSyst for over ten years," Ana remembers. "It was only natural for me to join the company because I already knew the products and most of the colleagues." Ana's career began as a Software Engineer getting to know many new technologies, and eventually, taking on new responsibilities to quickly become a valuable member of the company.
What excites Ana most about working at Bosch.IO? "I'm thrilled to be working in the field of IoT and participating in creating a better future built on AI and connected devices." Ana also loves the friendly and creative atmosphere, the teamwork, and the dedication of every team member to give their best. For Ana, the Sofia site is unique because the associates designed the office themselves to meet their own personal needs and sense of aesthetics.
Like many other associates at the Sofia site, Ana starts her day with a cup of coffee and breakfast in the kitchen. After that, she has a daily meeting with her colleagues, where current objectives are presented and discussed. She then spends the rest of her day developing new features for the Bosch IoT Edge – the edge computing solution of the Bosch IoT Suite – and fixing bugs.
As a Senior Software Engineer, Ana takes part in the entire product development process: she studies and researches new requirements that the product must address and subsequently designs, implements, tests, and documents them. "Although the team here is small, we are responsible for many important parts of the product." For Ana, the key to success lies in teamwork and the mutual support shown by the team members.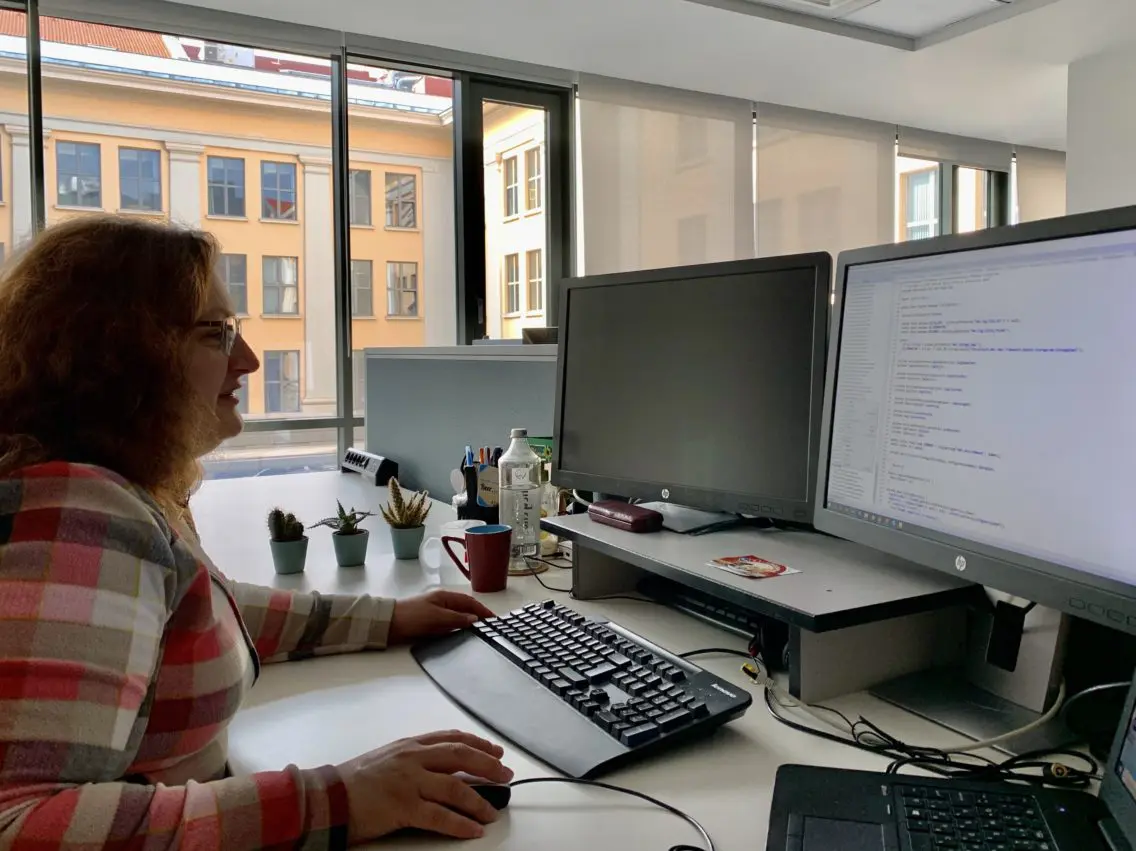 ©Bosch.IO
The IoT is becoming ever more prevalent in our daily lives – from intelligent traffic infrastructure and smart cities to health care and shopping assistants. With the number of connected devices growing, Ana and her team develop solutions to help clients manage and control devices efficiently and conveniently. "It's fun to design and develop a software module that meets the needs of our customers and solves their problems. I think of devices as neurons in a complex organism. Our software provides a way to connect these neurons and enables them to communicate with each other."
For Ana, as a Senior Software Developer, even the smallest of steps is of utmost importance for the future of the IoT. By contributing to the product, she can actively participate in creating a more connected and secure world. Even though her work comes with its fair share of challenges, she knows that these new technologies and solutions can help improve our way of living in the future.
After a long workday, Ana heads home to her family. The time with them brings her great joy and satisfaction: "The weekends are filled with fun activities – we hike in the mountains or ride horses in nature, encountering various wild animals such as deer, foxes, and rabbits along the way." Ana also enjoys painting and modeling – in fact, this was her first love before she discovered her passion for programming.
©Bosch.IO
Looking towards the future
Ana envisions a future where the IoT and connected solutions contribute to preserving our natural resources for future generations. Her ideal world is full of green energy and clean air. "I dream of a high-tech world in which billions of devices communicate with each other and – with the help of artificial intelligence – play their part in protecting the planet."